A Brief Introduction to Damascus Knife
Did you know chef's knives are among the most common kitchen tools used by professional chefs as well as home cooks? When it comes to the most popular chef's knives in the world, a Damascus steel chef knife deserves to be there in the list.
The best-in-class kitchen tool makes an excellent amalgamation of durability, robustness, and aesthetic appeal.
Moreover, excellent sharpness has made a Damascus knife one of the best blades around there. Whether you want to take your cooking skills to the next level or would like to help someone else boost their cooking journey, a Damascus knife can be an ideal solution. In other words, a Damascus chef's knife can be an excellent addition to your kitchen, which would ensure the great value for your investment.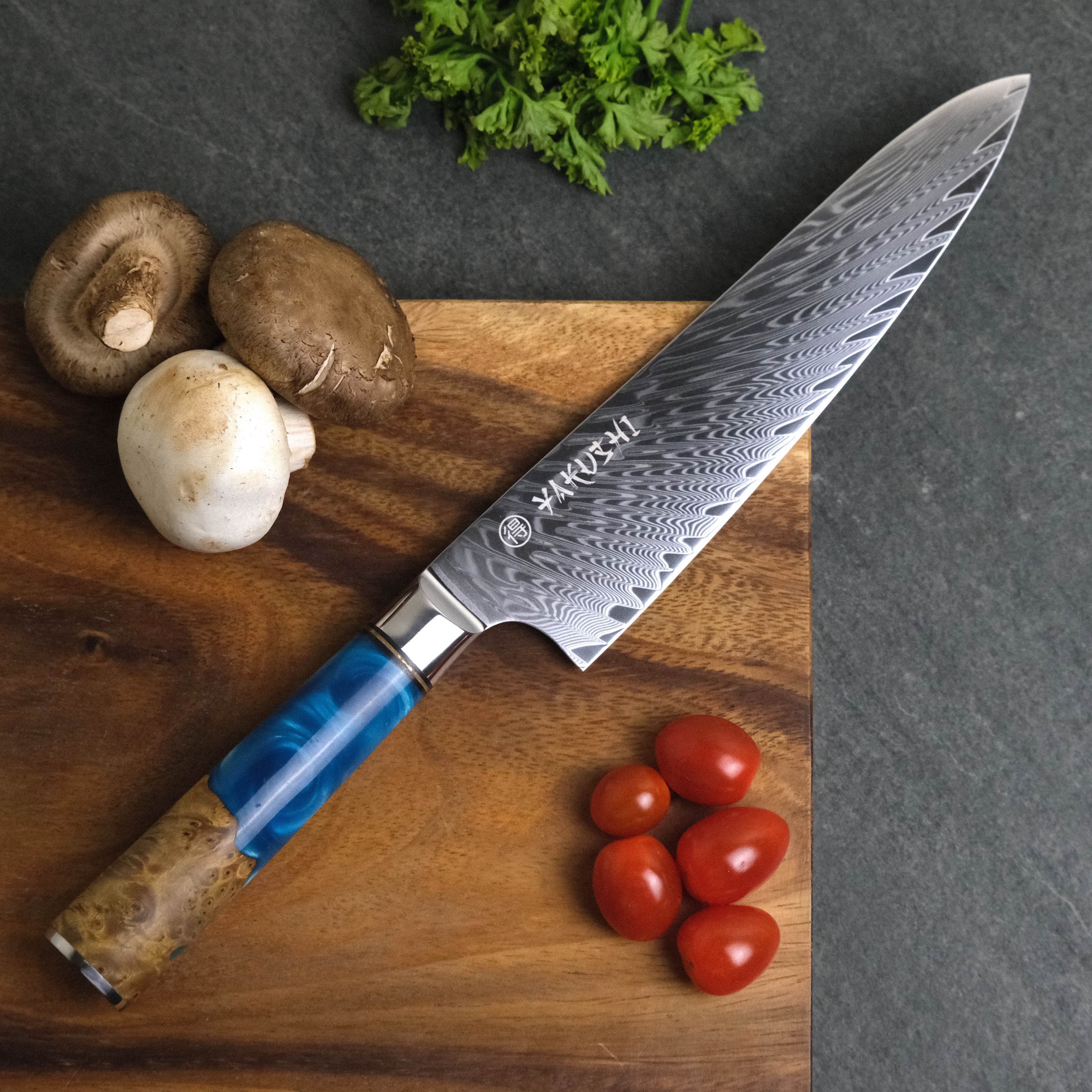 Damascus Knives: Some Information on the History
Did you know Damascus steel was believed to be developed and utilized in age-old South India? The bygone era witnessed the superiority of the Indian steel making methodology, which also became popular in the Middle East. Needless to say, Damascus steel was deeply admired and so was the blade manufactured with this sought-after steel.
Nonetheless, the ancient and traditional methodology of manufacturing Damascus steel is either lost or unknown to today's generation. Fortunately, the state-of-the-art forging technology has made it possible to reproduce best-in-class Damascus texture. However, the materials and methodology used to make today's Damascus steel might be different from that of the traditional one that originated in India
Did you know that Japan has aced the manufacturing methodology of top-notch kitchen knives, including Damascus blades? Aesthetically appealing and outstandingly sharp Damascus knives (made in Japan) have become an integral part of most kitchens nowadays.
What about the History of Damascus Steel in India?
Damascus (also called Wootz) is a sought-after steel material comprising a wonderful wooden pattern. Ancient India is believed to be the origin of the best-in-class Damascus steel. Did you know Damascus steel was also considered one of the best materials to manufacture robust swords?
You already know about the vagueness of the manufacturing process of Damascus steel, and that is why the process is often considered mysterious. The "iron pillar of Delhi" (Delhi is the capital city of India) is believed to have been manufactured with Damascus steel.
What about Modern Damascus Kitchen Knives?
Did you know Damascus steel nowadays comes as a laminate material? It is used to manufacture best-in-class knives. On the other hand, layered materials with the insertion of hardcore material in-between are used to manufacture Damascus knives.
When it comes to the Damascus knife's structure, you would find it to be manufactured with fragile yet robust core material. Moreover, a layer of sticky yet hard-to-oxidized materials is there as protection for the core material.
These factors have made Damascus Knives extremely robust, rust-resistant, and sharp. Moreover, the aesthetic appeal of these knives is of top-notch quality. That is why manufacturing a best-in-class knife with an awe-inspiring Damascus pattern has become well-recognized or extremely popular nowadays. The Damascus steel chef knife has become one of the essential kitchen tools for home cooks as well as professional chefs.
Moreover, age-old sword manufacturing methodology, Japonesque design, and Japanese conventional workmanship have made Damascus knives one of the most popular options for buyers. Nowadays, people from all around the world have included Damascus chef's knives in their cooking journeys.
How to choose the Best Damascus Chef's Knife?
A Short Guide
You might be interested in investing in the
best Damascus steel chef knife
. However, you have to know how to choose one for your kitchen before finalizing your buying decision.
Otherwise, you may end up buying a poor-quality knife leading to frustration and wastage of your investment. That is why it is a must to know in advance what to look for in a Damascus knife to opt for the best option for your cooking journey.
It is time to check out some strategies, in brief, to help you make your decision.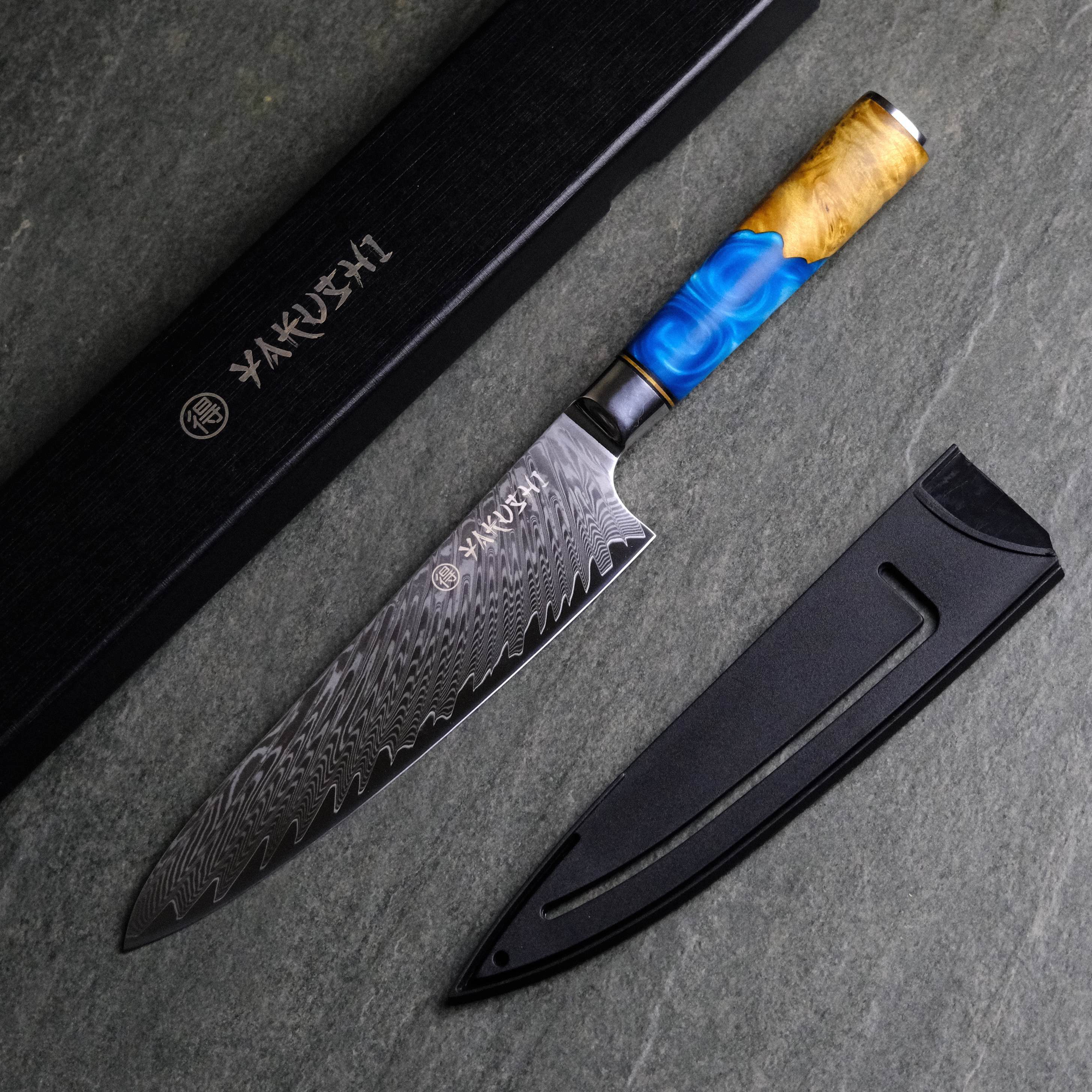 When it comes to choosing the best Damascus steel chef knife, you need to consider the tool's handle first. Firstly, make sure of the materials used to manufacture the knife's handle to verify its efficiency and longevity. Composite materials, plastic, or wood are used to manufacture the handle of most chef's knives. Always choose a Damascus knife crafted with cutting-edge materials. Most high-quality chef's knives leverage the power of Dalbergia, Rosewood, Ebony, and Pakka wood when it comes to manufacturing wooden grips.
The above materials have set a golden standard to craft wooden grips for a top-notch chef's knife. In addition, composite materials, such as G-10 and Micarta, are also used in this regard. Make sure that the handle of the shortlisted chef's knife is crafted in one piece without any cracks or chipping. If you want to work with your knife by keeping the level of comfort intact, then it is a must to ensure the knife is ergonomically shaped. Thus, not only can you operate the knife with ease but also can feel it easy to guide while working with ingredients.
Ergonomics of the Blade & Grip:
There is a diverse range of designs available in terms of blades and handles for best-in-class chef's knives. Most contemporary chef's knives are crafted by taking the comfort level of the grip and longevity into consideration.
The handle of the shortlisted Damascus knife should be comfortable enough to let you work with it without causing any inconvenience. In short, the chosen knife should adjust with the contour of the user's palm, so you need to make sure of the same while choosing the Damascus steel chef knife for your kitchen.
On the other hand, the shortlisted knife should be comfortable-to-use for a long time. There should not be any symptoms related to fatigue despite using the knife for longer.
Do not forget to make sure of the knife's weight while choosing an ideal Damascus knife to improve your cooking journey. Note that the blade should not be too light or too hefty. Find a knife with the right weight that won't feel uncomfortable to you.
Moreover, the height and length of the shortlisted knife must cater to your requirements and expectations. In other words, the width and length of the knife should enable the users to work with diverse ingredients.
Needless to say, the shortlisted Damascus knife should be compatible with your hands to let you work with it effortlessly. Do you have big hands? Then, you need to opt for big knives. On the other hand, consumers with small hands need to opt for smaller kitchen knives.
On the other hand, you need to make sure of balance as well while opting for the best Damascus chef's knife. Moreover, it is a must to ensure the balance of the shortlisted knife before making an informed decision. It especially goes for larger knives, including chef's knives. Note that the key balance of a knife stays at its bolster.
Failing to find a knife with a perfect balance won't make sure of proper comfort and guidance when it comes to slicing and cutting ingredients.
Needless to say, Damascus knives leave no stone unturned to take the beauty of your kitchen to the next level with its aesthetic appeal. Moreover, you should also focus on the processing of the blade as well as the handle to find an ideal Damascus knife for you.
Note that the whole knife needs to come as one piece without any holes or grooves.
Do not forget to check and verify the quality of the shortlisted knife's blade before finalizing it.
Wrapping Up:
A
best-in-class Damascus steel chef knife
would be an excellent addition to your kitchen accessories. Whether it is about boosting the magnificence of your kitchen or improving your cooking skills, a Damascus chef's knife has got you covered. Hence, what are you waiting for? Bring the best Damascus knife to your home today!