All that You Need to Know
About a Japanese Kitchen Knife Set
Japanese kitchen knife set is considered one of the most globally recognized, useful and elegant sets of knives for your kitchen chores. Built in an ergonomic style and sharp-bladed finish, they are suitable as an all-purpose tool for almost every kitchen.
Chefs mostly prefer
Japanese kitchen knife sets
to fulfill all kinds of chopping, dicing, slicing, and other needs in their kitchens. Right from high quality to easy handling and superior level slicing and cutting, these knives are a chef's best friends in their day-to-day kitchen chores.
Before knowing more about these knife sets, let's first understand the top features of these knives and discuss how they are extremely useful for anyone.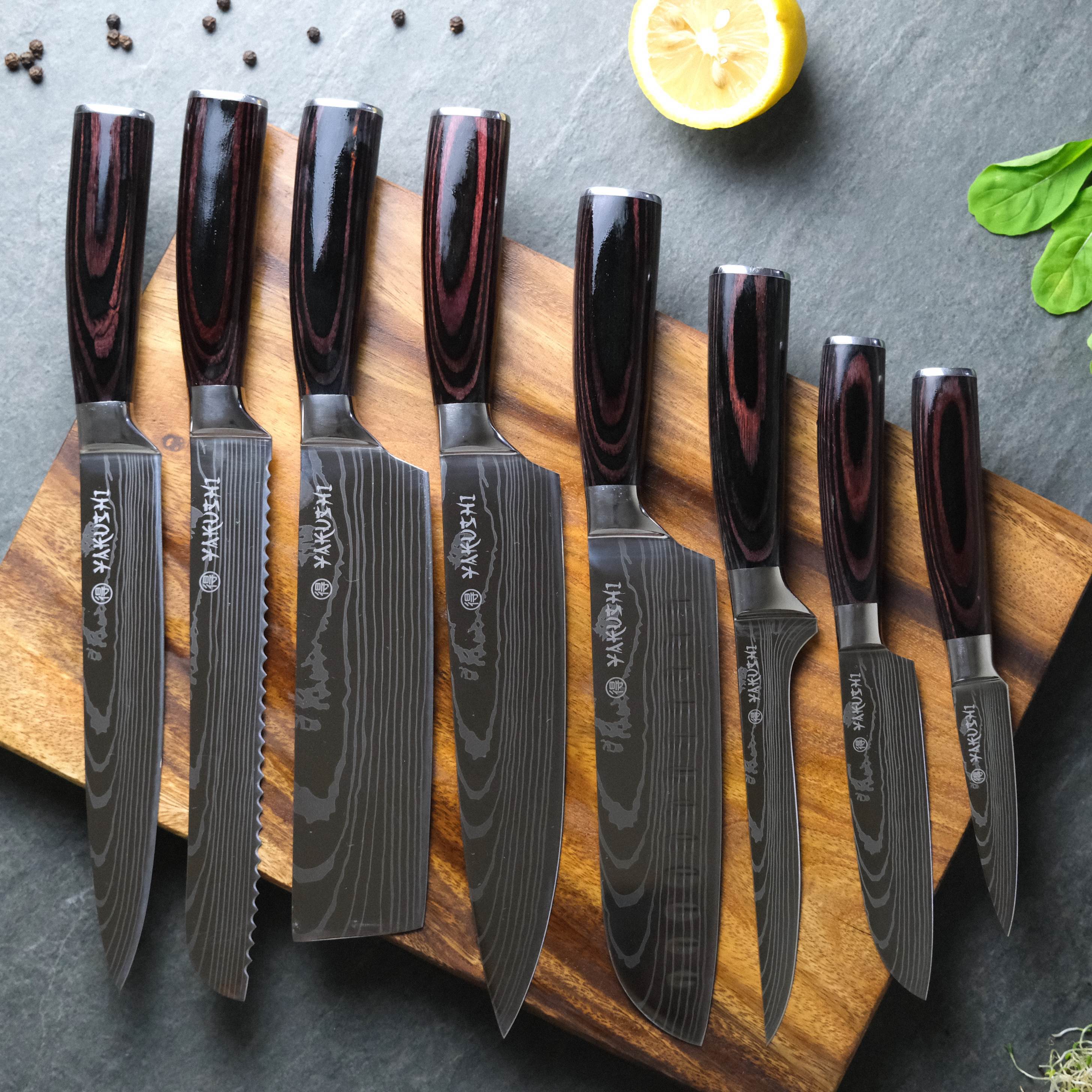 Features of Japanese Kitchen Knife set
Known for their artistic and work-efficient builds, these Japanese knives are also designed with a similar objective of peak performance ensuring desired results. Right from their blades to the entire body structure and handles for smoother grasping, these knives have it all.

Sharpness: Every type of knife in the Japanese kitchen knife set comes with a unique blade designed to perform the kind of job it is meant for. The high-quality blades of these knives are pretty sharp and can dig deep into even the hardest surfaces. Nothing can replace these knives when it comes to sharpness and precision.
High-quality: Japanese believe in non-compromised quality manufacturing only. Similar is the case with these sets of knives. Each one is designed in such a manner that its job is never compromised. The use of best-quality steel ensures higher precision and uncompromised longevity even when regularly used for daily kitchen jobs.
Efficient in every kitchen job: Right from cutting, dicing, peeling, butchering, chopping, etc. each member of the Japanese kitchen knife set is uniquely designed to cover all these jobs with a seamless flow. You will have separate knives for every job which makes the process even simpler and easier. This is the reason why chefs prefer keeping a set of these unique 8 Japanese knives nearby while working in their kitchens.
Safety: Safety is the biggest concern when it comes to cutting and chopping. With the superb sharpness of the blades of these knives, it is very important to stay safe as well. Even a slight touch of the blade can cut deep into your skin. However, Japanese knives are ergonomically designed to reduce any such chances of cutting yourself. They are designed in a way that keeps you safe and confident while you perform all kinds of cutting tasks.
Reliability: When it comes to relying on a knife in your kitchen, you can trust Japanese knives to the fullest. Capable of performing all kinds of cutting and chopping jobs in your kitchen, you can experience seamless cooking with these knives by your side.
Similar to knowing your knife features, it is equally important to know how to choose your knives, too. When it comes to choosing the best kitchen knives, nothing better than a Japanese kitchen knife set can replace them. However,
here are a few points to consider while choosing your appropriate knife set.
Steel: Always consider comparing the stainless steel that has been used for making the knife set that you choose to buy. It plays a very vital role in the knife's performance and longevity too.
Blade: Every type of knife has a separate blade size, curve, and texture. Consider identifying each one of them and pick your appropriate knife accordingly.
Handle: Too hard or too soft handles, both are not ergonomically favorable when it comes to choosing a knife set. Make sure your knife's handle is easy to hold and simultaneously, comfortable on your hands. If you wish to perform all your jobs like cutting, chopping, peeling, etc. in a seamless manner, this is a very crucial consideration.
Tasks: Always choose your knife based on the type of jobs or tasks it needs to perform. However, when it comes to choosing your knife set, you will mostly have separate knives for separate purposes. Make sure to pick a set that contains all kinds of knives you will need by your side in the kitchen.
Storage: Always buy a set that can easily be stored and is not bulky. Take a review of your storage space and options prior to buying your kitchen knife set.
Japanese Kitchen Knife Set Offering Diverse Knives

The standard Japanese kitchen knife set consists of 8 knives uniquely designed to perform their jobs. Let us take a closer look at all!
Commonly known as the "Kitchen Workhorse" this one rarely stops when the kitchen is at its full flow. Covering a comprehensive range of chopping, cutting, fine dicing, and other related jobs, the chef knife is almost everywhere. You can easily use it to finely dice the herbs and can also chop regular vegetables with perfect results. This Chef knife comes with a curved blade for faster cutting when your kitchen schedule is very tight.

The 7" Santoku knife has rightly been called "The Kitchen Mule". Though comparatively less acknowledged, this knife works hard and delivers superb performance. The most significant quality of this Santoku knife is that it can perform a diverse range of tasks which means you do not have to run for a separate knife over and over again for your different cutting needs. From cutting to chopping and from slicing to dicing, this knife will let you accomplish your cutting tasks with precision. Equipped with a heavy straight blade, the knife ensures precise cutting as required without giving any extra pressure or weight on your wrist or hand. The 7" Santoku knife can also be used for perfect push cutting without a second thought. Use this knife to attain amazing results and add speed and efficiency to a variety of cutting tasks.
Unlike the other knives in the league, this knife is unique with a sharp yet serrated blade curvature. As the name suggests, this one is specially designed in such a manner that it can easily slice through freshly baked bread with a smooth flow. The uneven blade surface of this knife also makes it capable of slicing through soft tomatoes without crushing them. So, what keeps you waiting? The bread knife is a must.
Considered the smaller sibling in the knife set, this 5" Santoku knife is not difficult like your smaller siblings! In fact, on the contrary, this one will turn out to be your true partner when it comes to handling several jobs in your kitchen. Capable of performing a comprehensive set of cutting and chopping jobs in the kitchen, this one is a smarter way to do multiple jobs with a single tool. The small size and sharp blade make it versatile. Right from cutting through soft fruits to harder vegetables like potatoes, this one will help you with almost every cutting task.
Commonly known as the "Kitchen Vulture" this one is a true de-boning tool that you can have by your side. As the name suggests, this one is capable of neatly deboning anything just like a vulture. Dig deep through your deboning needs with complete precision with this long, flexible, and curved blade knife. With this one, you can simply dissect everything with utmost precision.

You can easily identify this one as the tallest knife in the pack. However, this one has a unique structure as it is the thinnest knife in the lot. You can consider it the most versatile tool to perform all kinds of slicing jobs. Use this knife to slice through anything that needs wider and longer reach. Perform your slicing with utmost precision with this amazing knife.

This big-sized knife is square in shape and holds a truly heavy blade for performing all types of butchering jobs in your kitchen. You can easily slice through all types of hard surfaces with this big boy. This will surprise you in many forms by helping you perform most of the cutting and chopping jobs very easily. Right from chopping vegetables to cutting through even the hardest meats, you can perform all kinds of jobs with this one.

These are 8 different types of Japanese knives that can turn out to be your best kitchen partners and simplify all kinds of chopping and cutting jobs.
However, it is very important to choose your knives carefully to ensure easier chopping and cutting in a seamless fashion. Yakushi Knives offer some of the finest collection of top chef knives that are suitable for all kinds of kitchen chores.
Choose the most effective and efficient set of knives to make your job faster and easier without compromising on the precision factor. Enjoy cooking with simplified chopping and cutting jobs with a premium Japanese kitchen knife set available at Yakushi Knives. No more troubling yourself trying to find different knives when you can have them all together!
The 8 assorted knives in a
Japanese kitchen knife set
will add speed, comfort, and precision to your cutting needs. Having top-quality knives meant for different functions will keep you happy and satisfied in your journey of cutting and cooking.