Get an All-Embracing Experience
Mention 'Butcher Knife Set' in front of any seasoned professional chef; we bet he or she will not get tired of talking about the wonderful and impressive features of premium butcher knives!
The unique functions and features of these knives cannot be described in just a few words. The precision-forged butcher knives are loved, coveted and sought-after by everyone across the world for their amazing performance, design, overall looks, and versatile tasks.
While the commoners might be knowing these knives as confined to meat slicing or meat mincing, the truth is something else. A premium quality butcher knife set offers you the precious opportunity to perform most of your cutting tasks easily and quickly. In other words, when you have a good
butcher knife set
in your kitchen, you can stay assured to get the best results through almost each of your cutting tasks. We will surely discuss this in detail in our later paras.
Whether you are a cooking pro or a general cooking enthusiast who loves experimenting with continental cuisines or everyday unique recipes, you must be curious to know more about superior butcher knives. So why wait anymore? Just scroll down and enlighten yourself with significant information related to a high-quality butcher knife set. Here we go!
Butcher Knife – Durable Knife with Unmatched Sharpness
How many times do you come across a knife that guarantees absolute satisfaction in terms of high durability and unrivaled sharpness? Well, that happens rarely because most of the knives start showing signs of damage or wear & tear only after a few times of usage. But this is where a good butcher knife set makes all the difference!
The butcher knives are famous for their matchless durability as well as sharpness. They are strong as they are made of premium quality and robust carbon stainless steel. Being forged with precision, these knives promise superb durability and work fine every time you use them.
The sharpness level can be observed in various ways. However, the best proof of the utter sharpness of butcher knives is that they cut through the meat as if you are cutting butter!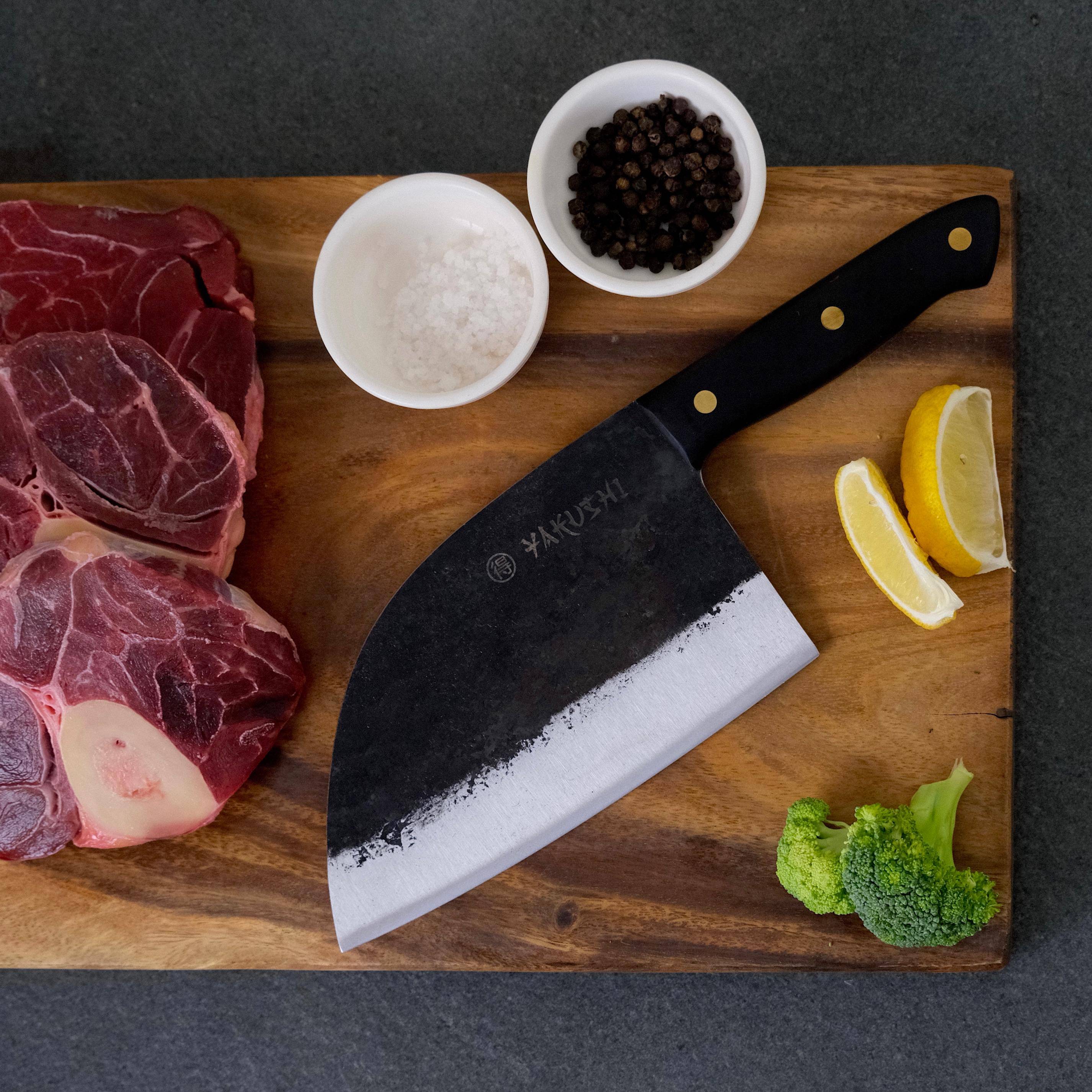 Butcher Knife Set Assures Neat & Easy Slicing of Meat

Whether you are cutting raw or grilled meat, having a
premium
quality
butcher
knife
set
in your kitchen will ease your tasks when there is the need of cutting the meat with acumen and aptness. Let us take a quick glance at how the butcher knife helps you cut both types of meat (raw and cooked) quickly and easily.
Butcher knife on raw meat
As told earlier above, the fine level of sharpness, strength and durability of these knives have made them the top choice when it comes to slicing through the meat. The blade embeds a wide flat surface with superb sharpness. The handle is comparatively small. Both these elements put together the required force on the main area of work, that is, the meat or flesh in this case. When the user starts using the butcher knife, the force is inserted on the targeted area with ease that leads to easy, quick and neat slicing of meat. Hence, instead of trying just any other knife for cutting through meat, one must use the butcher knife for effortless and satisfying results. Even if you have a reliable common knife with good sharpness, cutting meat using a butcher knife is much more beneficial as it saves your effort and time while giving you the desired results. The butcher knife set can also be used suitably for deboning the meat.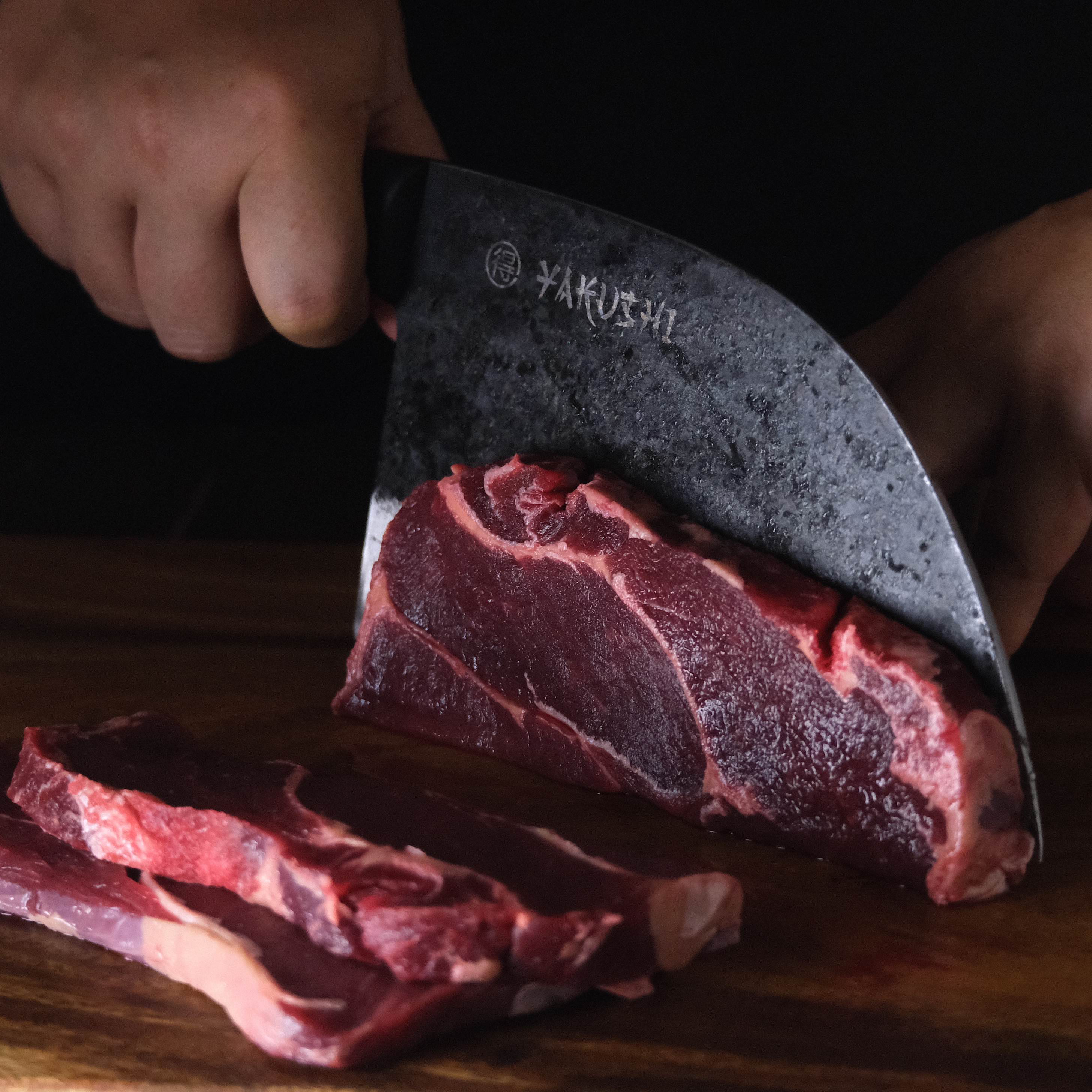 Butcher knife on cooked meat
Alright! So you have roasted a big chunk of meat and you are planning to serve it by cutting it into small, easy and alluring pieces for your guests or customers. So how would you do that? Here, it is worth mentioning that most of the meat types get hard after being roasted. That is why you need a sharp knife that helps you cut the roasted meat in the right way. The butcher knife ensures cutting the roasted meat too. It cuts easily through the big roasted chunks of meat and helps you get smaller or medium-sized pieces as desired. The neatly cut pieces of roasted meat are as important as the neat slices or pieces of raw meat. The fine roasted meat pieces cut with perfection help you prepare the platter in a very attractive way.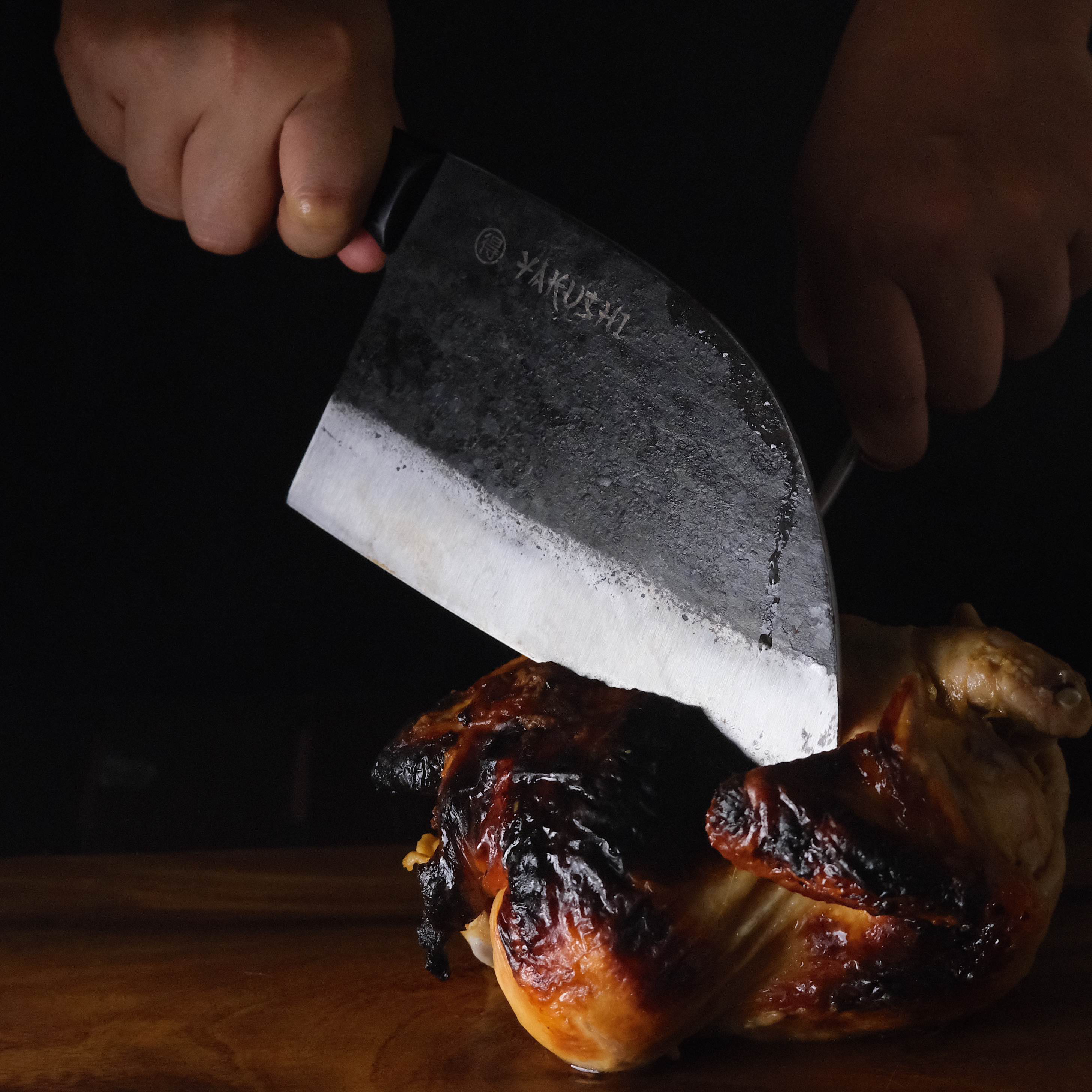 Use Your Butcher Knife Set for Amazing Cutting Results on Veggies, Fruits & More
And here comes one more amazing feature of butcher knives! Yes! The one that we promised to explain to you in our initial lines! Well, many people think that the use of butcher knives is confined to meat cutting and meat deboning. But the truth can surprise most of you! The butcher knives are not only used for meat-cutting tasks but are also used for cutting vegetables, fruits and more items. Whether you want to achieve tiny dice of broccoli, thin scraps of cabbage, fine slices of orange/lemon or simply want to chop off fresh green vegetables or herbs like spinach, mint, lemon grass or more, the butcher knives will work as your best companion. They will chop, slice, and cut vegetables, fruits and herbs with great perfection. You can even get rough garlic slices quickly by using a butcher knife. Because of fetching superb cutting results on various types of items, butcher knives are counted among the most versatile knives. The versatile feature of these knives is the topmost point that convinces anyone why having a good butcher knife set in every kitchen is truly beneficial and useful.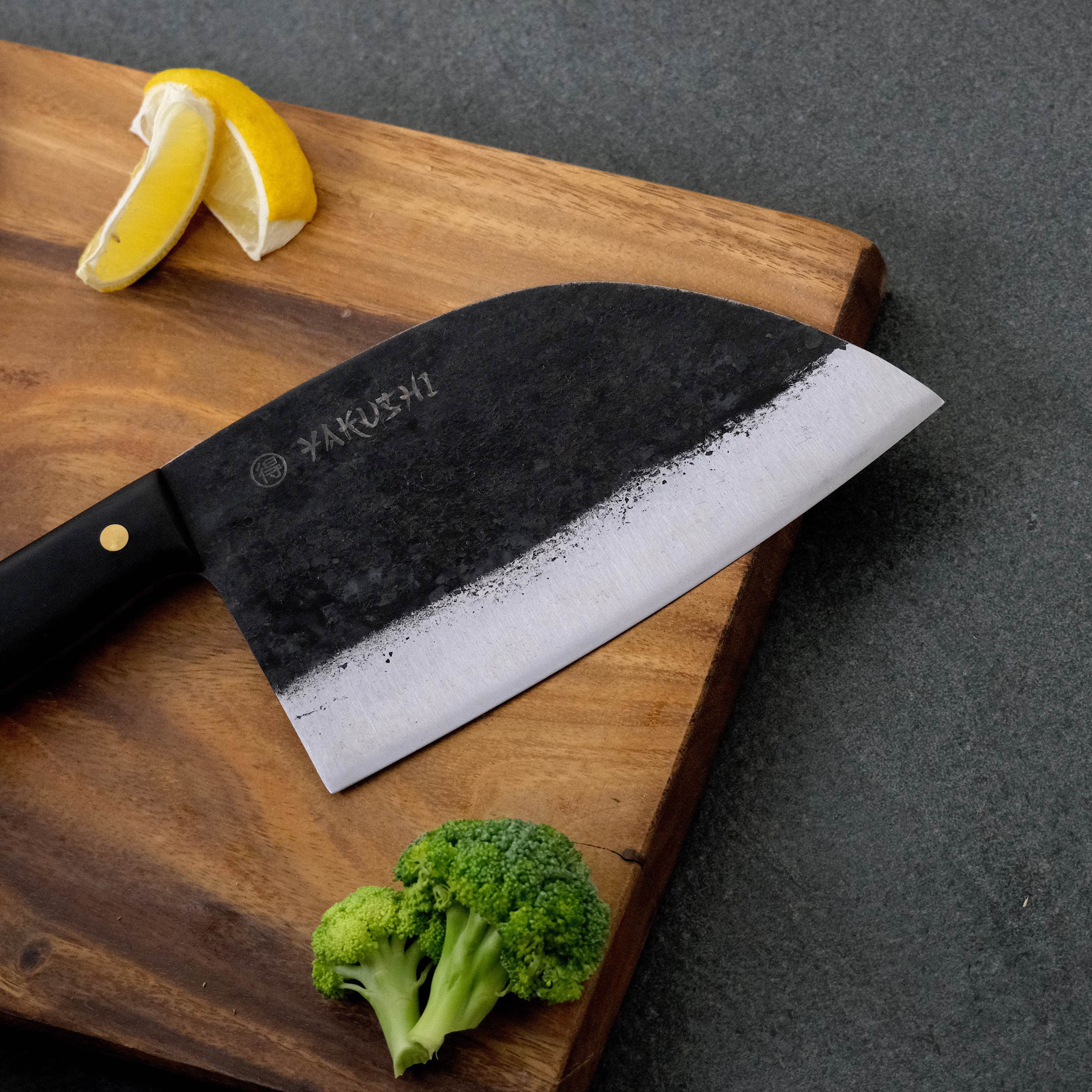 Butcher Knives – Let's Talk About the Design

The wide flat blade with a small handle is the basic idea behind the overall design of the butcher knives. When you will look carefully at the butcher knife, you will notice that these knives have a kind of tapered design. A slight curve in the blade shape can also be noticed. This design offers great flexibility as well as strength. Those who have got expertise in using the butcher knife know very well how the slight curve, long sharp edge and small handle of butcher knives help get a smooth movement during various types of cutting tasks. In addition to this, the big blade helps you use the knife confidently on flesh without any fear of damage, chipping or breakage.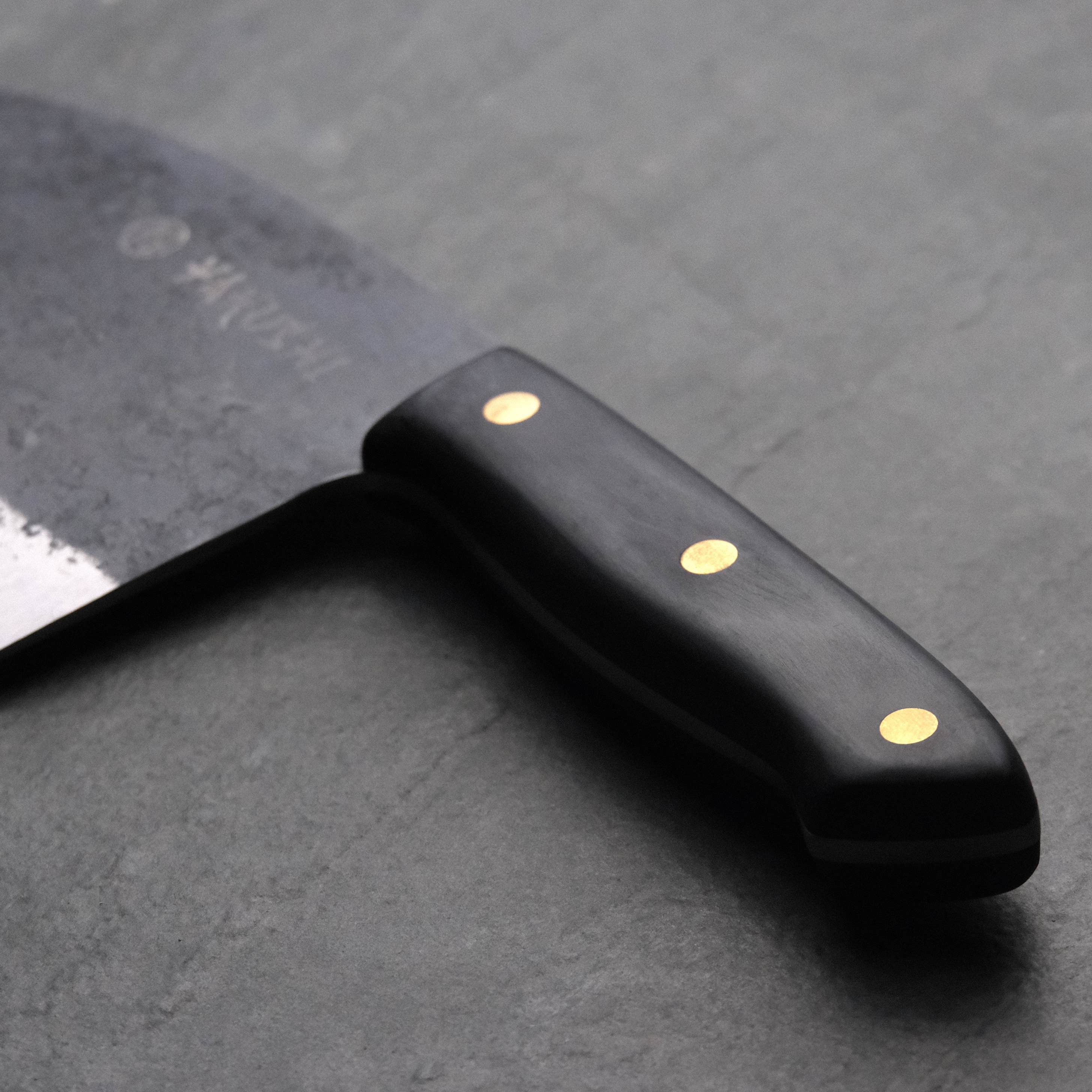 In a butcher knife, not only the blade but also the handle plays a very important role. The handle has been kept small with a purpose. The scientific fact is that the small handle helps get force automatically on the blade side. This means that without actually putting lot of effort, you get to work on your main area just by grabbing and moving the handle in the right way. The small yet tough handle of the butcher knife also gives the users the right and confident grip – an attribute that plays a very important role in different types of cutting requirements in the kitchen.
Butcher Knife Set Promises Great Comfort Without Compromising Superior Looks

The all-inclusive design of the butcher knives beautifully and creatively embeds the idea of great comfort and great looks. It is the knife that promises and delivers ultimate cutting results on a variety of eatables. The blade and the handle together make for a smooth incessant and fast back-and-forth swinging that lets you chop, cut and slice with ease. The wide range of butcher knife set gives you alluring and stylish designs that will not only impress you but will definitely add class and style to your kitchen counters. Thus, with a premium butcher knife set in your kitchen, you get both comfortable cutting results as well as superior-looking knives.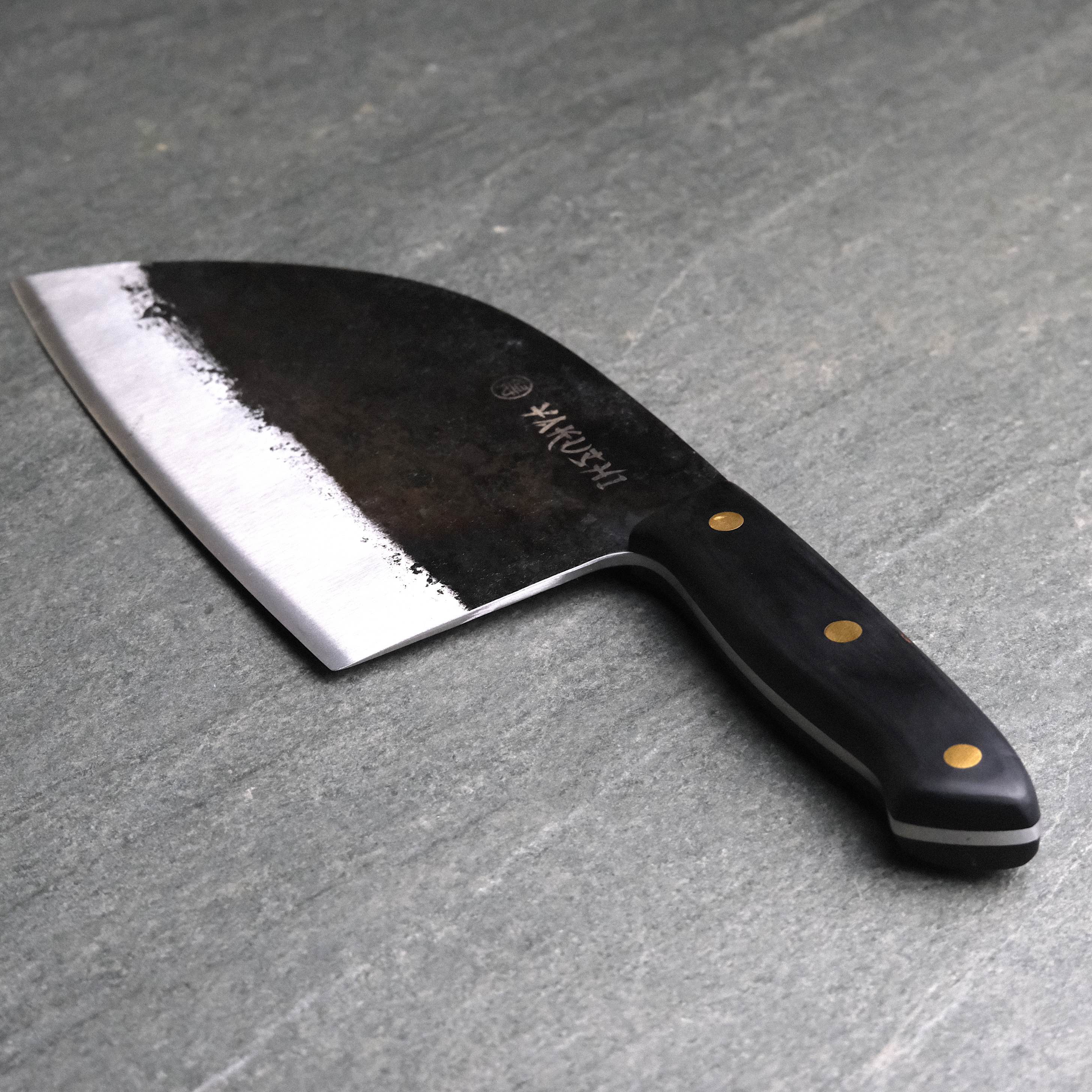 Butcher Knives – Quick Fact Checks
As we reach the end of this blog, why not take a look at the top facts associated with butcher knives?
The history of butcher knives - Till the 1840s, butcher knives were considered the best companions for mountaineers. As these knives were highly useful and simple to make (as per the basic design), they were put to use for different types of objectives that included the meat-cutting task, the deboning task, food-cutting needs, scalping and also for skinning animals. These knives were even used in earlier times for the purpose of self-defense as they were quite sharp and strong and could be handled with comfort.
The reason why most butcher knives have a hole in them – The simple yet significant reason behind the same is that the whole of the top of the blade corner helps you hold the blade firmly and easily when it is being used around the bone or for cutting the bone. Without a hole, it becomes a bit difficult to hold the blade while holding the handle of the knife with the other hand.
Two types of steel are used in the making of the butcher knives – It is important for you to remember that two types of steel are used in the making of these matchless knives. One is high-carbon steel and the second one is stainless steel. Both types of steel offer different types of benefits with slight differences between the two.
Be it the versatile functions offered by butcher knives, their peak performance in every cutting task, the great durability, the ergonomic (comfort plus style) design, or the feature of robustness, there is no doubt that these knives certainly promise and ensure delivering you a 360-degree experience. If you too want to taste this unique experience, you must shop for a premium quality butcher knife set.
Explore the wide and alluring options of
butcher knife sets

at Yakushi Knives
and place your order today to enjoy the immense benefits of the marvelous butcher knives.