The Ultimate Guide to Cyber
Monday Knife Shopping
Cyber Monday originated in the United States and became popular through the National Retail Federation in 2005. The name was chosen to contrast with BLACK FRIDAY when they noticed that people continue shopping online on Monday, still at the office after Thanksgiving. It has become the second-biggest online shopping day after Black Friday in the U.S.A.
The good news for culinary enthusiasts is that this sale also applies to kitchen essentials, including knives and accessories. So, if you have been waiting for a heavy purchase of high-quality knives online for your business or home, the Cyber Monday Shopping Sale is the perfect time to bid. Keep reading to learn more about making a mindful knife purchase on this day!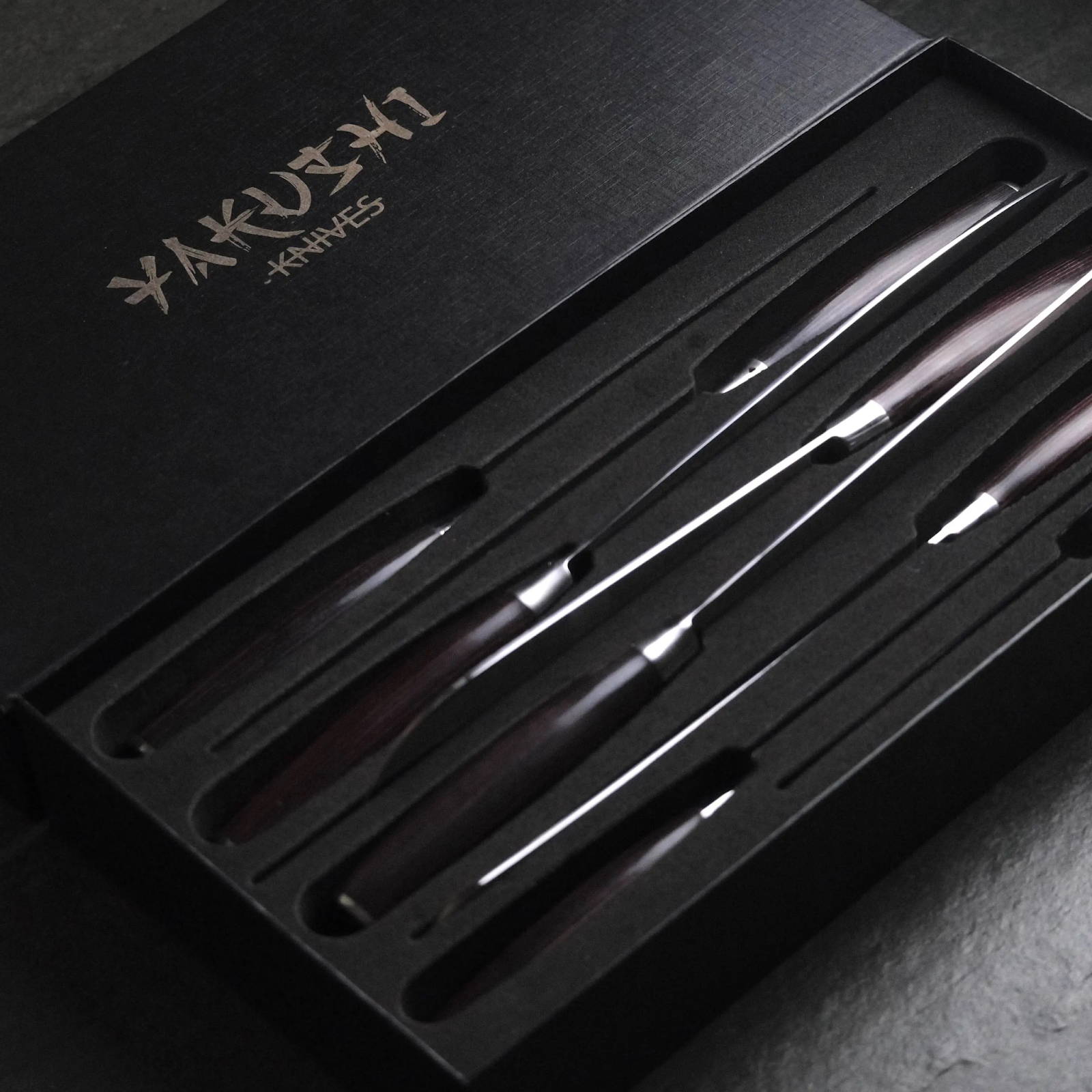 Why is it a Great Day to Shop?
In 2022, Cyber Monday sales reached $11.3 billion, a 5.3% increase compared to the previous year, making it the largest online shopping day in history. Cyber Monday is expected to be even bigger this year, with some experts predicting that sales could reach $12 billion. So, why shop on other days when you can get the best top Cyber Monday deals while saving your wallet? Think and decide!!
Cyber Monday Knife Shopping Tips
Consider your cooking style and kitchen or restaurant requirements to make the best purchase on the Cyber Monday Sale. Create a knife collection tailored to your culinary adventures. Below are the things you should do:
Create a Wish List
Imagine the knife collection you want! Create a wish list of the knives you have been longing for. It's like making a holiday gift list but for yourself! This way, when Cyber Monday arrives, you'll know exactly what you're looking for, making your online shopping adventure exciting and focused.
Fix a Bar of Budget
Budget is something you must set beforehand. So, decide how much you want to spend on your knife haul. Setting a budget helps you avoid overspending and get the best bang for your buck.
Check Product Specifications
Search exactly what you want in your item, and write the product specifications for each knife on your wish list. Think of it as reading the ingredients of your favorite recipe. Make sure the knives meet your needs, from size to material.
• When Cyber Monday knife shopping, focus on the blade's material. Opt for high-quality steel like stainless or carbon for durability and sharpness.
• Invest in knives with handles that feel right, enhancing your culinary skills while preventing hand fatigue.
• Look for knives with finely polished blades on the Cyber Monday shopping sale, ensuring each cut is precise.
Look for Bundled Deals
Keep an eye out for bundled deals that you get on the Cyber Monday Shopping sale. Imagine getting not just one but two or more knives at the price of one. It just sounds " WOW" right? These offers add extra value to your purchase, making your knife collection grow in a budget-friendly way.
Always Check Return Policies
Before clicking "Buy," you must check all the policies suggested. It's like having a safety net for your Cyber Monday shopping spree. Ensure that if your knife isn't slicing and dicing to your liking, you can return or exchange it hassle-free. In this way, you can make your Cyber Monday experience stress-free and enjoyable.
Compare Brands and Their Prices
Explore various brands and prices for a cut above Bargains. Diverse options cater to different budgets and preferences. While some brands focus on affordability, others prioritize premium quality, but some focus on both, such as Yakushi Knives. So, consider your needs and balance brand reputation along with their prices, ensuring you invest in the best kitchen essentials.
Variety: Sets or Individuals? Plus, Accessories!
Think about what you are exactly looking for. Sets provide versatility, covering various cutting needs. On the other hand, individual knives allow personalized selection.
Don't forget the avail discounted storage or sharpening accessories on this big shopping day.
Types of Knives to Consider
Choosing one particular knife that suits your needs is really a tough choice. Because for different purposes, different knives are needed. You just can't use the bread-slicing for chopping meats or veggies. So, look quickly at all the important kitchen knives you can purchase on Cyber Monday shopping.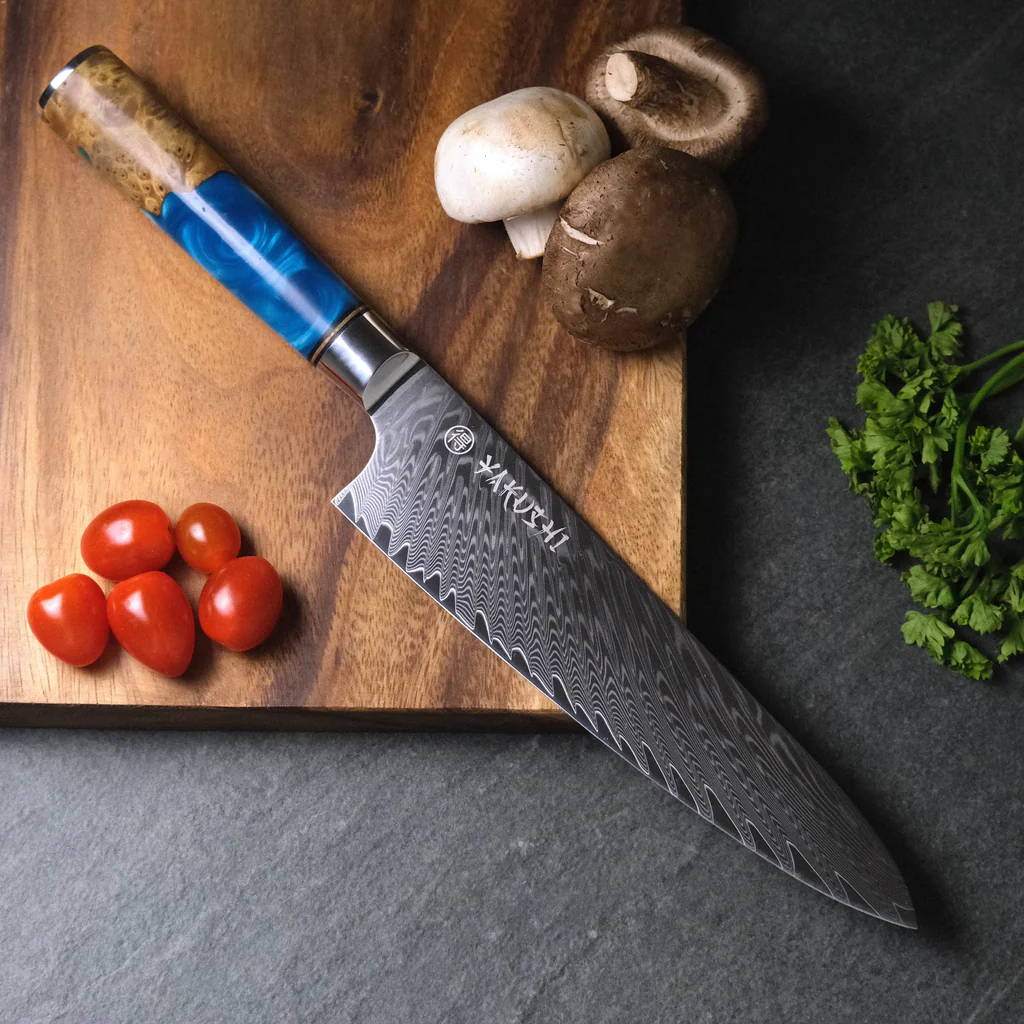 Damascus Steel Chef Knife
This knife is known for its beautiful Damascus steel pattern and sharp, durable blade. It is a great all-purpose knife that can be used for a variety of tasks, such as chopping, slicing, and dicing. So, you can say Damascus Chef Knife is a perfect example of beauty with unbeatable quality.
Yanagiba Sashimi Knife
Such a knife is usually used to cut raw fish for sashimi and sushi. It's made from high-quality steel that is very sharp and can make precise cuts.
Classic Chef Knife
Crafted from high-quality steel, the Classic Chef Knife boasts a sharp, durable blade that easily glides through meats, vegetables, and fruits. Its broad, curved blade allows for rocking motion, making it ideal for mincing, chopping, and slicing.
Handmade Butcher Knife

You are well aware of the hardness of meat and bones compared to veggies. So, you just can't cut both with the same knife. If you do so, you have to put in lots of effort, which nobody wants to do. The Butcher heavy-duty knife is great for cutting meat and bones; it's made of strong, durable steel that can withstand much force.
Damascus Nakiri Knife
The Damascus Nakiri Knife is a versatile vegetable knife ideal for chopping, slicing, and dicing vegetables. It is crafted from Damascus steel, known for its beautiful pattern and sharpness. The Damascus Nakiri Knife is a must-have for any kitchen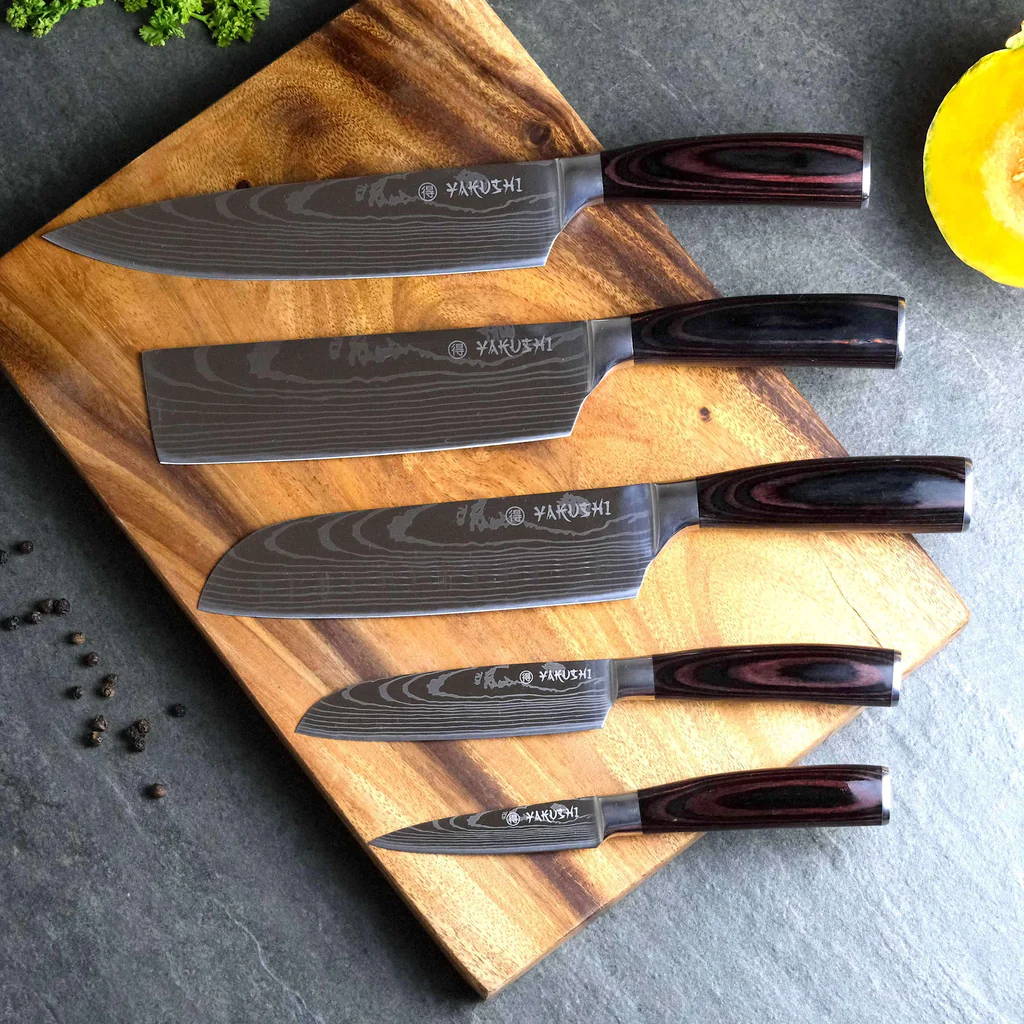 Master Knife Set

If you love to cook new dishes daily, investing in a knife set is the best choice. Because you never know what ingredient you are using next time. Every ingredient needs a different level of knife sharpness and holding grip. This master chef knife set includes five collections in it.
Chef Knife 8"
Santoku Knife 5"
Paring Knife 3.5"
Cleaver Knife 8"
Santoku Knife 7"
Apart from this, many other sets of choices are also available. So, think about your cooking needs and choose the most suitable one. At Yakushi Knives, you can find a variety of individual and sets of knife collections. So, explore, find, and add to your cart because the Cyber Monday Shopping sale is just around the corner.
Whether you are a professional or a home chef, you well know the importance of high-quality knives in smooth cooking. Nobody wants to waste all their energy just on slicing and chopping tasks. To overcome this concern, this set has eight pieces of different knives that perform various functions:
Chef Knife 8"
Santoku Knife 5"
Paring Knife 3.5"
Bread Knife 8"
Cleaver Knife 8"
Santoku Knife 7"
Slicing Knife 8"
Boning Knife 6"
When you can save money, why spend so much? Top Cyber Monday deals are just waiting for you! Explore different platforms and brands and compare their prices. Go for the one that offers quality, warranty, and a reasonable price altogether.